Experienced and developed moving companies are aware of how profitable the notion of cross country relocation is. However, not all routes are as popular when it comes to past and current moving trends. There are always those migration patterns that are more popular than others. And this is something that can significantly benefit professional moving businesses, especially those that focus on nationwide moving. So, if you find yourself at the very start of this busy season with a need to focus on specific interstate relocation routes, you will want to focus your marketing efforts and services on the most popular routes.
Not sure about the appeal of providing nationwide relocation services? This might change your mind
Yes, it will take some investing and strategic planning. But expanding your moving expertise on a national level is definitely worth the effort. Research shows that a majority of companies easily return their original investment after several cross country moving jobs. Making the added investment in paying a moving crew, buying quality packing materials and a larger, better equipped moving truck… That is the initial expense that you need to prepare your budget for. However, once you cross that first difficult threshold, it only becomes easier afterward.
According to AMSA records, the difference in cost is more than notable. These are the average costs for moving jobs based on distance:
local relocation = $1,250
long distance (intrastate) relocation = $2,300
interstate relocation = $4,890
Add to that your pricing rates and any special services that you charge for, and you are easily looking at $5500+ per relocation. When you consider the fact that interstate moves have been twice as more popular than local moves, you have a winning investment. And if you are not as sure about which states to focus your efforts on, focus your efforts on the busiest US relocation routes.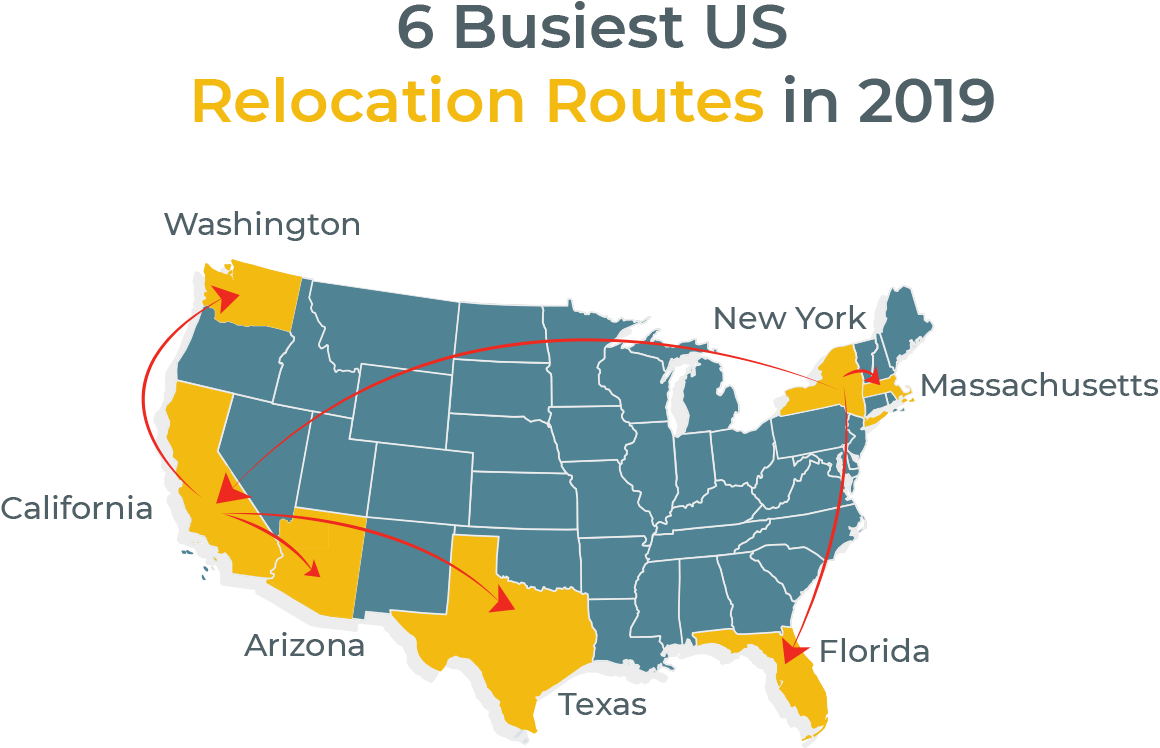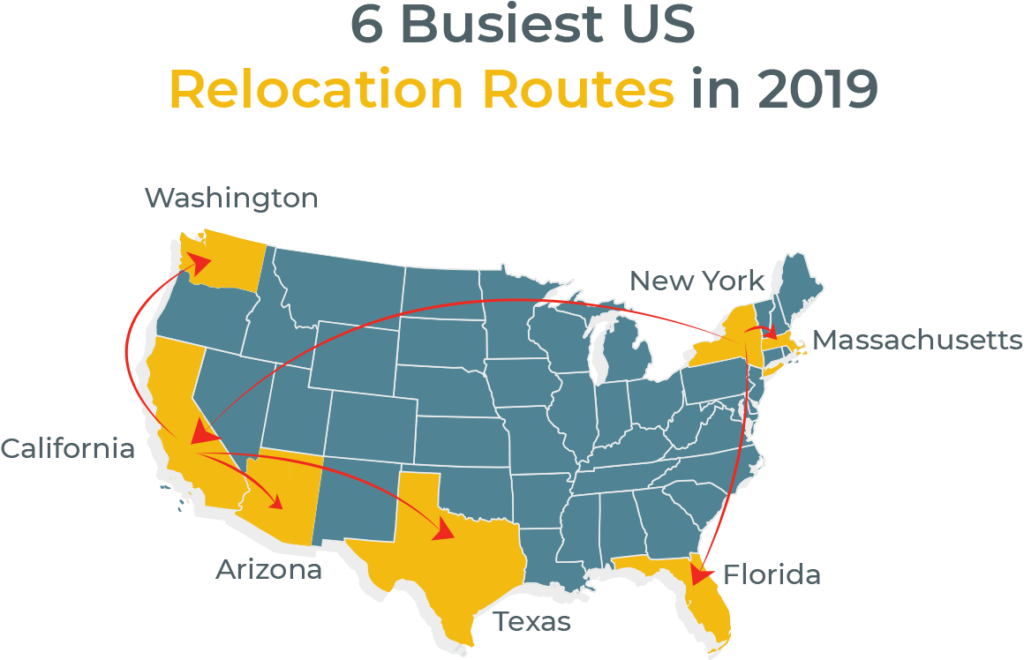 As a professional consultant for moving companies across the US, Movers Development took the time to take a closer look at the top interstate relocation routes in the past years. Based on our findings, we have established the routes cross country moving companies might wish to focus their efforts on this peak season:
California –> Texas
New York –> Florida
California –> Washington
California –> Arizona
New York –> California
Massachusetts –> New York
The conclusion we made regarding the locations noted here was made based on the analysis of combined data gathered from authoritative brands in the relocation industry. As a team that works with professional moving companies from all over the US, we firmly stand behind these findings.
Popular interstate relocation routes are the way to go
Going interstate and exploiting the trending needs of people looking to move is the perfect way to grow your moving business. Remember that the moving industry is a vast expanse and one that only recognizes strong and developed companies. Grab the chance to become an authority in your field of expertise – take your moving brand to the next level.
Our team can help advertise your business to the right audiences online and position you in accordance with SEO standards. For more information about moving industry news and digital marketing for moving companies, check out some of our other articles or contact us directly.