Get More Customers with
Google Business Profile & Review Management!
Our simple and effective solutions will help you stand out from the competition, build trust, and attract more customers.
See Google Reviews
Start Today By Getting In Touch With Us
See Google Reviews
GBP & Reputation Management Services
Boost Your Moving Business with a Strong Google Presence
GBP Optimization
Optimize your Google Business Profile with descriptions, relevant keywords, and consistent NAP and logo.
Regular Posting
Transform your GBP into a powerful marketing tool. Attract more customers with regular posting based on your blog posts and services.
"Request a Review" Template
Get more positive reviews using our pre-designed email and text message templates to request a review.
"Thank You" Page
Drive more traffic to your social media and GMB profiles with a custom "Thank You" page that customers are directed to after leaving a review.
QR Code for Print Requests
Simplify the process of requesting moving services for your customers. Boost leads with a QR code for print versions of requests.
Review Response Coaching
Learn all the best practices for requesting and reacting to reviews. Manage your online reputation with effective reviews management for movers.
Why Is Google Business Profile So Important?
GBP is a powerful ranking factor, crucial for moving businesses of all sizes. GBP management and optimization helps you:
Enhance your local search visibility
Share important business information, so customers can find and contact you easily
Improve customer engagement, build relationships, and boost reputation by responding to reviews, answering questions, and providing updates
Gain insights and analytics about how customers are interacting with your business listing
Make data-driven decisions to improve your online presence and marketing strategies
Why Is Reputation Management for Movers Necessary?
Consumers rely heavily on online reviews when making purchasing decisions. Negative reviews can quickly tarnish your reputation and harm your chances of winning new customers. Our customer feedback management for moving companies will help you:
Monitor and respond to reviews
Proactively manage your online reputation
Ensure that you maintain a positive image
GET STARTED
How Review Management Impacts SEO
Customer review management for movers can significantly impact your website's SEO and search engine rankings. Positive reviews translate to:
Increased visibility
Improved rankings
Increased trust and credibility
Better engagement
Increased dwell time on your website
Lower bounce rates
GET STARTED
How We Can Help You Stand Out
Are you looking to make a splash in the digital world? We can help you achieve your goals. Let us handle Google Business Profile optimization and reputation management for you, so you can focus on what matters most – your moving business. We will work tirelessly to ensure your online presence is top-notch, starting with a comprehensive profile that highlights your unique selling points and showcases your strengths. Moving company reputation management is crucial to success, which is why we'll help you with review monitoring for movers, responding to feedback, and engaging with your customers to build trust and loyalty.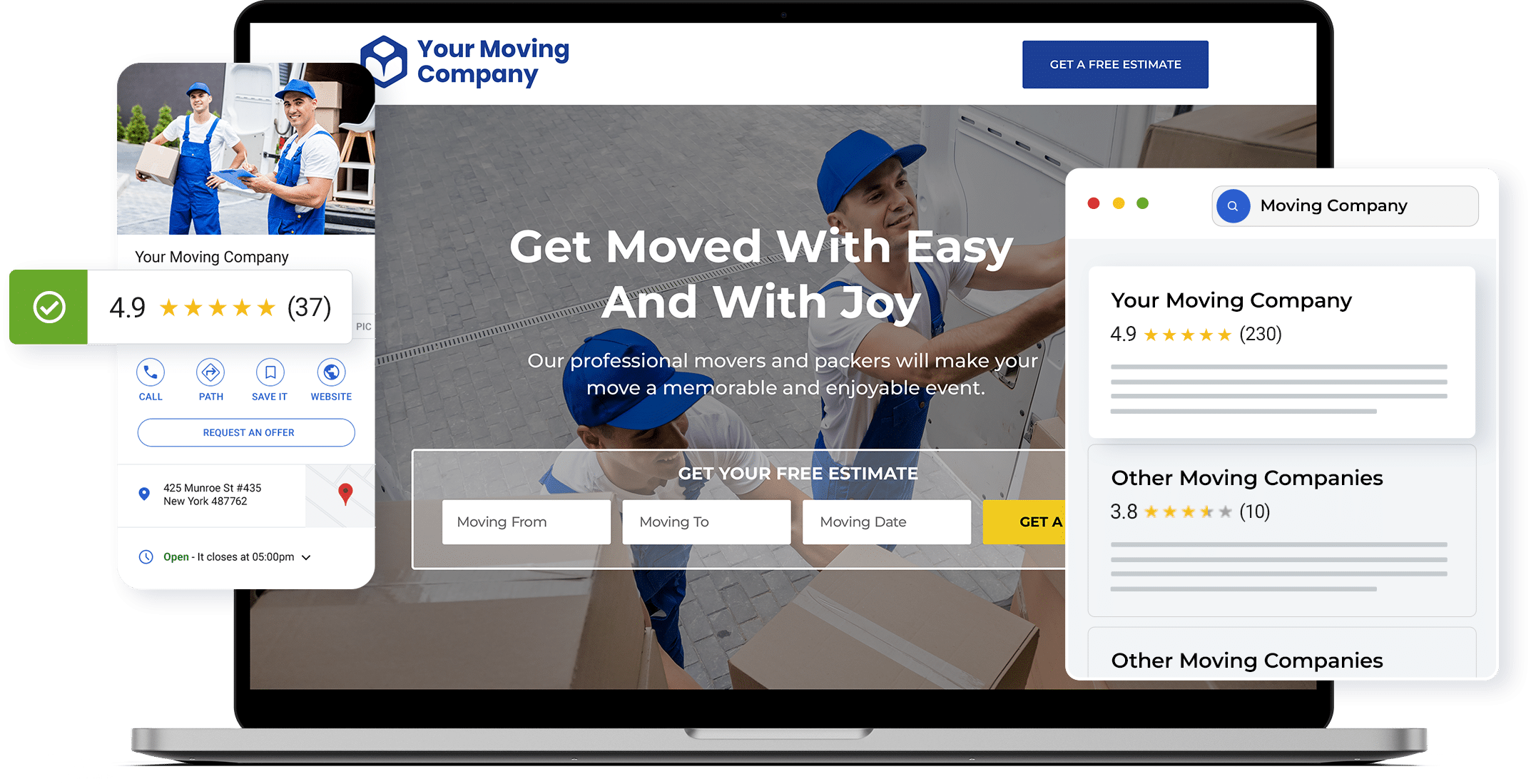 Why You Should Trust Us With Your Online Reputation
At our agency, we don't just talk the talk - we walk the walk. With vast experience in the moving industry and dozens of happy clients, we know what your moving business needs to flourish. Let us help you build your brand, establish an online presence, and grow despite market changes and the seasonality of your industry with our Google profile management for movers. At Movers Development, we deliver results because:
We strive to provide value to every client we work with
Our digital marketing solutions are customized to meet the unique needs of each business
We closely monitor the results of our efforts to ensure we achieve the goals we've set together
We foster a culture of open and honest communication with our clients
Steps To Outstanding
Online Reputation
Ready to take control of your online reputation and gain more customers? Let's elevate
your brand and enhance your reputation together.
Get in touch
Contact us today to see how GBP optimization for movers can help your business achieve its full potential.
Receive a plan of action
Bring your GBP to life and make your company stand out with a budget-friendly plan.
Sign up for our services
Get the highest-level GBP management service that will improve your online presence and increase visibility.
Become the first choice
Be the brand that customers know and trust. Make sure they always pick you over the competition.