The location a company operates within is a very influential factor in the moving industry. It's simple – some states and cities are easy to dominate, while others are highly competitive. And based on this, you will be able to decide how best to focus the services and advertising of your business. After all, how profitable would it be to focus on local moving projects in a city that has a low local moving rate? Instead, you might be wiser to re-focus your efforts on the most profitable relocation types for that particular area. Today, we take a closer look at the US cities with the highest number of local moves – those that are great for the local moving business this season.
What part do local moving jobs play in the modern moving business?
According to moving industry statistics, the percentage of local moves has been dropping in the past years in comparison to interstate ones. However, this doesn't mean that moving businesses should give up on providing local moving expertise. In fact, certain cities in the US are more than suitable for this particular type of service. And for companies with locations in those cities or nearby, that is a deep well of potential clients and revenue. Hence, you should take a closer look at our list of the most popular cities for local moves this season.
Top 12 US cities with the highest number of local moves
People living in large and developing cities have little reasons to live city borders, let alone cross state lines in search of a new home. After all, when you have a prospective job in a city that is economically strong and suitable for starting a family, what more is there to yearn for? The only concern people have is whether they want a bigger home or a quieter neighborhood to live in. So, here is a closer look at the top cities on this list and the reasoning behind it all: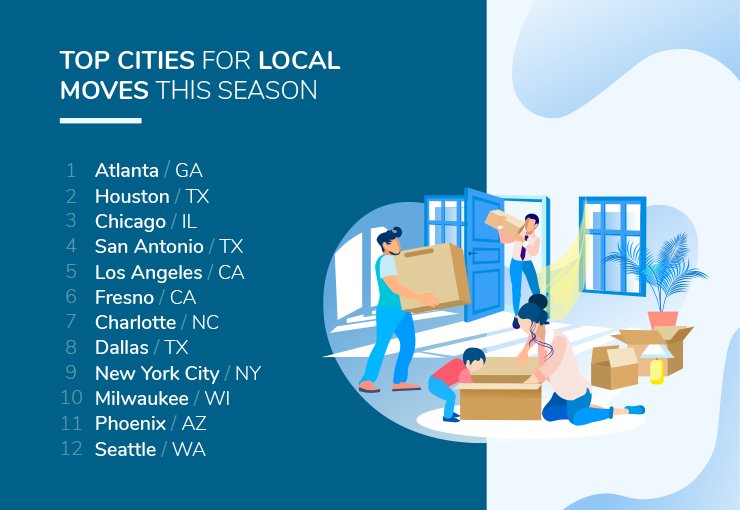 Atlanta, GA
Houston, TX
Chicago, IL
San Antonio, TX
Los Angeles, CA
Fresno, CA
Charlotte, NC
Dallas, TX
New York City, NY
Milwaukee, WI
Phoenix, AZ
Seattle, WA
The summary
First place among US cities with the highest number of local moves goes to Atlanta, GA. As the 4th fastest growing city in the US in 2018, Atlanta has experienced rapid growth, in terms of population and economics. The result is the continuous development of the city, with new job openings, plenty of educational opportunities, diverse housing, etc.
As expected, the states of California and Texas each have a couple of cities on this list. And since they are among the top three most populous US states, this is little to no surprise. For Texas, the representatives on this list are Houston, San Antonio, and Dallas, while Los Angeles and Fresno carry the banner for California.
New York City is close behind CA and TX. Despite being among the top 10 outbound states for relocation, New Yorkers still tend to relocate within city borders, Brooklyn in particular.
Other cities worth mentioning on this list include Chicago, Charlotte, Milwaukee, Phoenix, and Seattle – all metropolitan areas with large populations.
Every company has to begin its story somewhere. And for moving companies, that beginning is found in local relocation jobs. Offering local moving services is the bread and butter of any professional moving business. It lays the foundation for the development of your brand in the future days to come. You start small, only to expand onto other forms of moving services – long distance moves, cross country relocation, international moving, etc. And with each new distance you cross for the sake of relocation, your revenue and reputation will grow. So, the question you need to ask yourself is whether local moving projects are the priority of your work this busy season?