What is the problem most moving companies have to deal with year after year, season after season? You need to know the amount of manpower and moving equipment that you will need this moving season. Whether it's the size of moving trucks, the number of people per moving crew, the quantity of packing materials that you need to secure,… it all comes down to having precise information. You need a reliable source of moving company news. Invest too much, and you can quickly end up at a loss. Prepare too low a number of resources, and you risk missing out on some profitable relocation jobs. So, what is the best way to get it just right? Perhaps knowing the most profitable relocation types and sizes of moves this season can help you make the right call.
How can you benefit from our research?
As a benefactor of the relocation industry, and one that focuses on seasonal moving industry trends and statistics, Movers Development does all it can to aid our clients in their endless pursuit for market dominance. That is why so many of our clients rely on the insights and professional advice that our team offers them. With us, you can ensure that the money, time, and energy you invest in this busy season will return to you several times over. And all it takes is focusing your efforts on the right type and size of moves. The combined data we gathered from various organizations within the moving industry have led us to the conclusion of which sizes of moves are most popular this year. And the results will probably take you by surprise: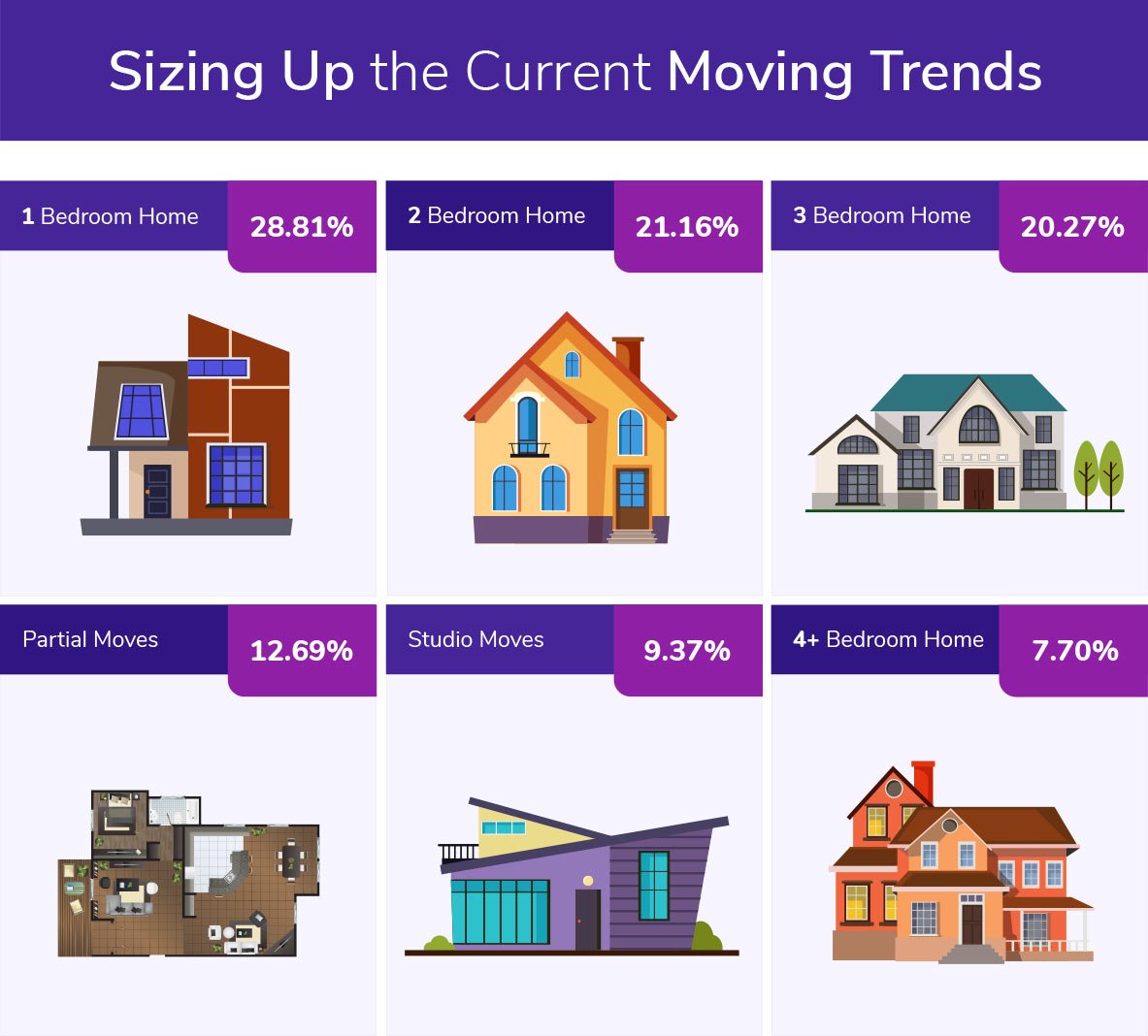 So, here is the result of our research on the ratio in moving sizes in 2019:
1 Bedroom Home Relocation – 28.81%
2 Bedroom Home Relocation – 21.16%
3 Bedroom Home Relocation – 20.27%
Partial Moves – 12.69%
Studio Moves – 9.37%
4+ Bedroom Home Relocation – 7.70%
The following data was gathered from the combined statistics and input of diverse US-based organizations such as AMSA, United Van Lines, MyMovingReviews, Atlas Van Lines, etc. Another relevant fact worth mentioning here (and the reason why we are focusing on residential moves) is the relocation ratio according to the types of moves:
Individuals that hire moving companies (44%)
Corporate relocation projects financed by companies (39%)
Military moves(16%)
Fed Government (1%)
How can your moving business profit from our list of the Most Profitable Relocation Types and Sizes in 2019?
The average size of a residential move can prove to be very beneficial for your moving business. It would help you organize and plan your company resources in the most optimal manner possible. As a result, you would be able to ensure maximum gain with the moving resources you have at your disposal. And for a developing moving company, nothing is more important, especially during the peak of the moving season.
With all this useful information at your disposal, you can now properly balance and focus your moving resources. Not only that, but you can also find the time and energy to invest in preparing your website for the upcoming season, not to mention focus your marketing efforts on the target audience in question. Rather than chasing blindly after all moving jobs you can find, you should focus your efforts on ones that can bring you the most revenue in the shortest amount of time. However, if you are more focused on the appeal of nationwide relocation routes, you are welcome to revisit our take on the most popular interstate routes in 2019.