As a professional moving company, you want to take every opportunity to expand your moving business and establish dominance in your local market. Hence, it is important to find new ways to build up the extent of the services you offer to customers. That is the fastest way to ensure the development of your moving company in the competitive moving industry. That said, have you take into consideration the profitability of offering storage services in 2019? In case you haven't, we're here to offer some valid arguments as to why you should.
The overall value of the storage industry
No matter how big a living or business space we have, the tendency to clutter always persists and expands. And it is then that we realize that we need to either declutter or get more space to store away all those belongings. Most people opt for renting or purchasing additional space, which explains how self-storage has become a 3.8-billion-dollar industry.
With over 48,500 storage facilities in the US, this particular industry trumps the number of Starbucks' and McDonalds' locations combined (twice). The industry employs over 170,000 people (an average of 3.5 employees per facility), which translates to roughly 0.05% of the US population.
Who fuels the self-storage industry?
The fact is that roughly 9 percent of US households currently rent storage units. And if you think these are your typical apartment owners with lack of space, think again:
67% of self-storage renters own a garage in their home.
47% also possess an attic where they store belongings.
33% own a basement in addition to a garage and attic.
And the majority of these renters fall under business and military personnel. However, there are always states that stand out from the rest when it comes to inbound & outbound moves, storage facilities, housing opportunities, etc. So, which states have the most storage units and profitability of offering storage services in 2019?
New York (NYC)
Colorado (Denver-Aurora)
Florida (Miami-Fort Lauderdale-Miami Beach)
Arizona (Phoenix-Mesa- Scottsdale)
North Carolina (Charlotte-Gastonia-Concord)
However, as far as costs go, no state can trump California. With 10×10 storage units in San Francisco, Los Angeles, San Jose and San Diego, renting for an average of $145 per month, CA is definitely a profitable place to rent storage units.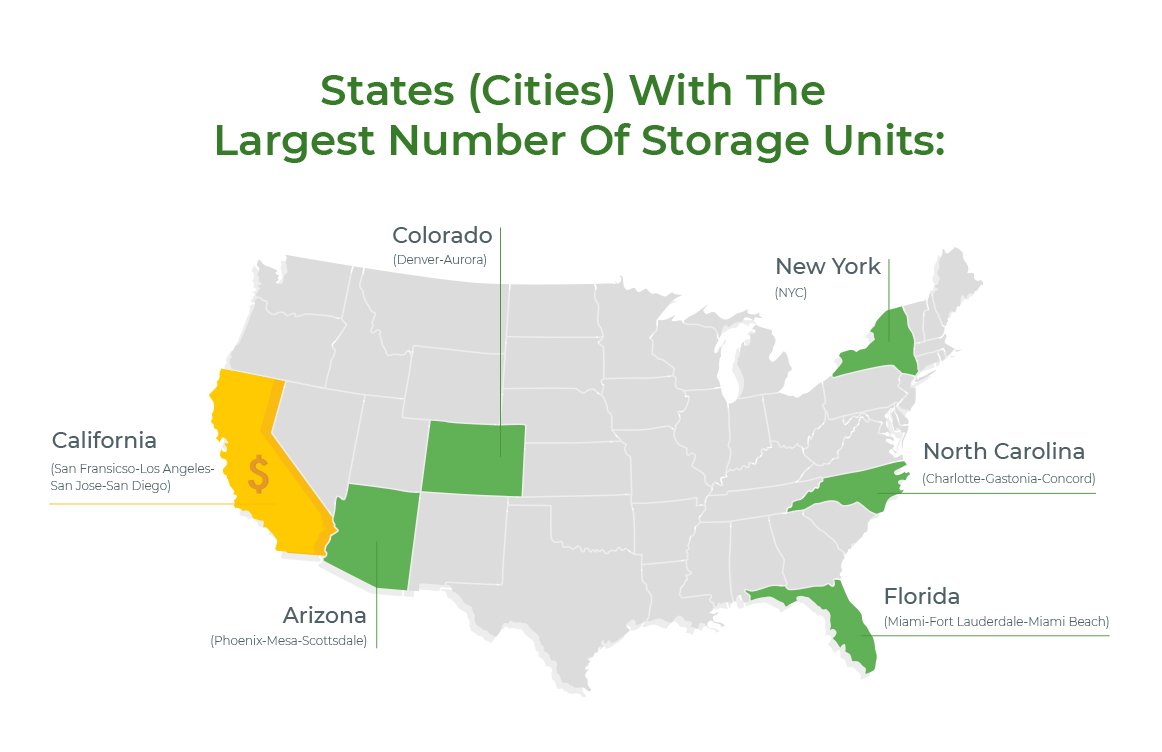 How does offering storage services in 2019 beneficial to your moving business?
The conclusion that you can make from the following data is that storage has become a necessity in the US. The need that people have to hold on to belongings exceed their need to save money. And this is something that moving companies know better than most.
Therefore, don't easily disregard the profitability of offering storage services in 2019, especially if you want to stay ahead. Just look around you and you will see how moving trends are expanding the reach of the moving industry and its piece of the pie on a global scale.